Opening its doors to the public for the first time, is a late medieval Killenure Castle, in the heart of Co Tipperary, just 5 miles from Cashel. The occasion is OAK. Open Art Killenure is a contemporary art exhibition and sculpture walk around a striking place. Opened by Jimmy Deenihan TD, Minister for Arts, Heritage and the Gaeltacht on Saturday 28th 2012, the grounds will be open daily in May and June.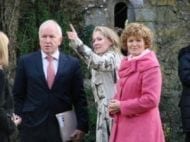 Commenting on the launch, Minister Deenihan said: "This is the first time that this striking property has been open to the public and it is wonderful that this occasion be marked by the hosting of such an exciting initiative. The combination of contemporary art and heritage in such an innovative and interesting way is testament to the vision of all involved. The quality and versatility of the works exhibited here are on par with the best internationally. In utilizing Killenure Castle and its grounds for this project, Tipperary has yet another must see stop on a visitor's journey.The towers and gables of Killenure Castle have seen the dawn of five centuries. Built on the ancestral lands of the O'Dwyer clan, the Elizabethan fortified house, now a ruin, has been casting a striking silhouette on the Tipperary landscape since the late 1500s. Many layers of architectural styles and occupation through the years gives Killenure a special quality, fully appreciated by the current owners. Passionate about 'breathing new life' into Killenure, they have created a comfortable family home with sustainability in mind, and a place with a great sense of adventure and fun.
Part of this 'adventure' is OAK, Open Art Killenure, an annual summer celebration of creativity. Visitors from far and near are encouraged to seek out the spirit of Killenure and, together, re-interpret the 'big house' in a new century. OAK comprises a contemporary art exhibition in the Georgian outbuildings, studio gallery and sculpture walk around the grounds. Over 30 artists have made work for the 2012 exhibition. According to the smart booklet about Killenure launched by the Minister, 'OAK is the brainchild of the owners, a sculptor and industrial designer. They are assisted in the inaugural OAK 2012 by co-curator and friend to Killenure, artist Eamon Colman (member of Aosdána)'. Site-specific installations and collector's pieces are placed in areas around the property – the Georgian outbuildings that surround the elegant courtyard with its vast Sycamore, have been transformed into mini-galleries. There are discoveries to be made in the wooded area called the 'fairy forest', the kitchen garden and in the castle itself.