Well, we have had an absolutely amazing September here at Killenure!
First of all, our fantastic new website – designed by Little Blue Studio – was nominated in the CSSAwards (http://www.cssawds.com/website/killenure/) and Awwwards (http://www.awwwards.com/sites/killenure-dexter-beef). These awards recognise the Design, Usability, Creativity, and Content of sites from around the world. We are absoutely delighted to have been included in these awards, and would like to thank everyone who voted for us, and of course everyone at Little Blue Studio for their amazing work!
On top of that, we received confirmation that Killenure Dexter Gourmet had been shortlisted in two culinary awards which we submitted our products too. In the Irish Quality Food Awards, we are honoured to announce that our Dexter Beef Charcuterie was commended by the judges for the 'Delicatessen – Continental Meats & Pate' category. Even more excitingly, our Dexter Beef Dripping, which was entered into the category of 'Meat – Innovation', was highly commended!Again, we'd like to thank everyone involved in these awards, and of course we are available for contact if anyone has questions about this. A full list of the winners is available at http://irish.qualityfoodawards.com/iqf-2016/2016-winners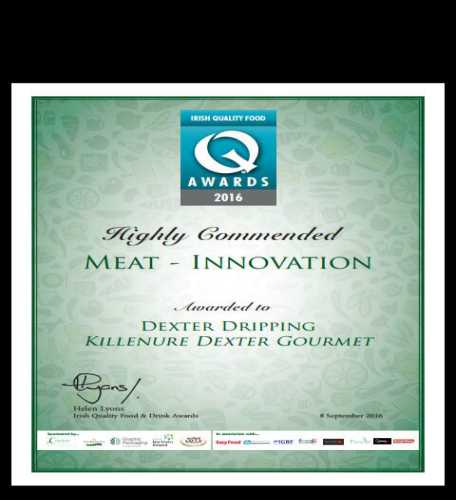 Last but not least, we are really privileged that Killenure Dexter Beef Dripping is now one of the products recommended in the 'Chefs Larder' category by Blas na hÉireann! This category includes products which are recommended for those in the professional trade, and we are absolutely thrilled that our Dexter Beef Dripping now numbers among them. Again, a full list of the winners (and well done to all of them!) can be found at http://www.irishfoodawards.com/wp-content/uploads/2016/10/Blas-2016-Winners.pdf
Thank you to everyone who helped us to get to this stage, and fingers crossed for more exciting news with you all in the future!